"Are you freaked out about your technology needs and the cost? You don't have to be," writes Greg Biersack in one of his motivating monthly LinkedIn posts called "Entrepreneurial Thoughts."
Greg writes a series of posts discussing relevant topics from his own entrepreneurial journey. While he occasionally mentions his company, Reach Dental Equipment Service, his insightful and relatable posts focus more on the valuable discoveries he's noted while navigating the ups and downs of entrepreneurship.
When Greg Biersack mentioned NumberBarn in one of his recent posts, we had to…reach…out.
Even a brief conversation with Greg will energize you to examine your personal mission, values, passion and purpose and how to integrate those into your professional life. (The first ten minutes of our conversation evolved more into a discussion about strategies to help homelessness and inner-city poverty in our respective communities than a conversation about our respective companies. Thanks for the inadvertent inspiration, Greg!)
After serving as an officer in the Navy for 9 years, Greg worked for an established mid-sized company for over two decades, wearing a variety of hats ranging from Director of Marketing, to CFO. After leaving his previous company in 2017, he took some time to self-reflect, exploring where he was at, and what he really wanted for the next chapter of his life.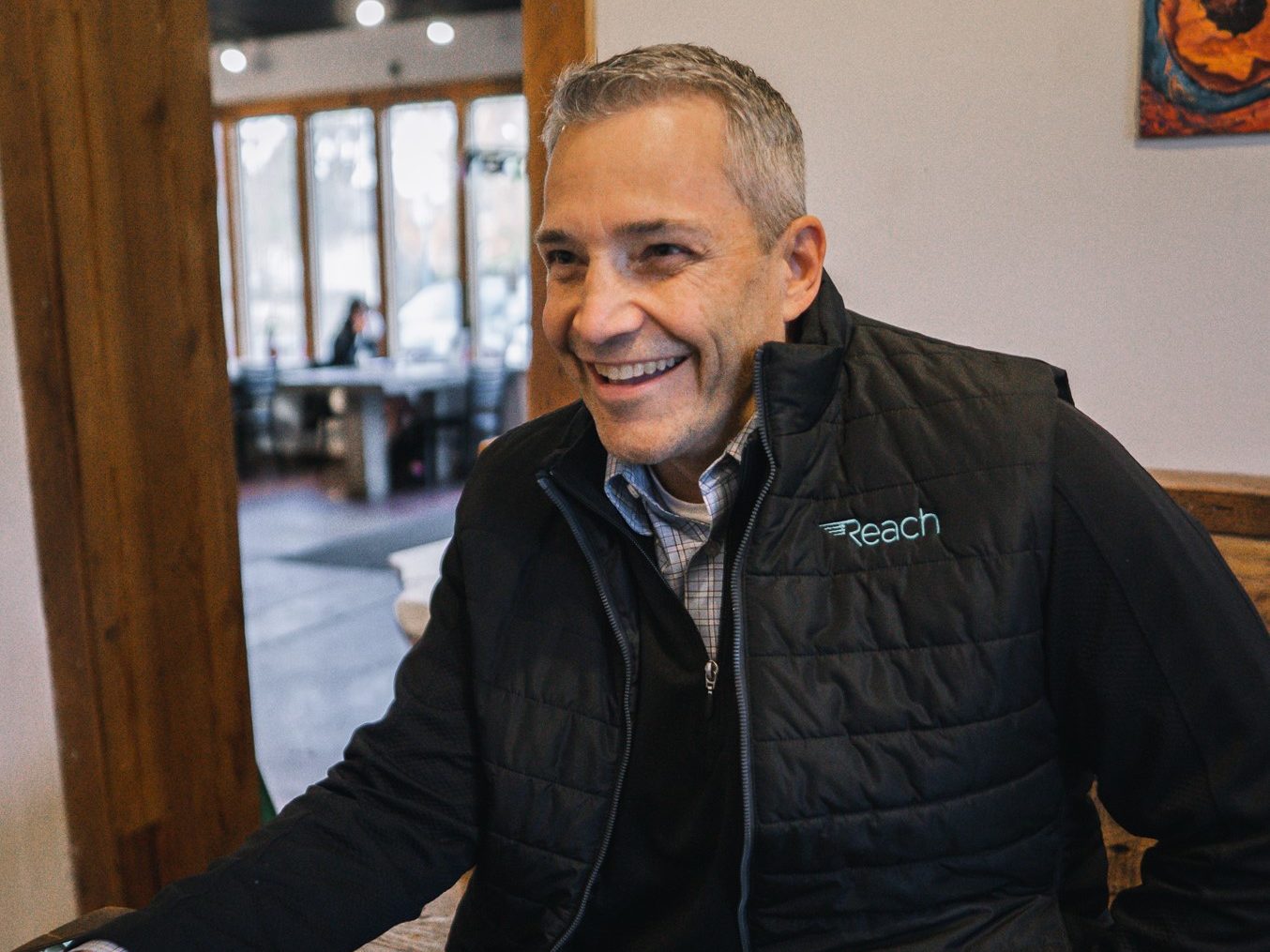 Reaching for a Happier, More Successful Life
"I had some cool mentors – everyone should have mentors, really. They encouraged me to take a pause in life and grant myself that grace to think about what I wanted to do, what I wanted my family life to look like, what I'm really passionate about." Greg acknowledges that sometimes "it's a bit of a fantasy to only pursue your passions, because you have to make money. But when you get the chance to integrate your passions into your work, it's a really cool thing" he says. "Fortunately, I was at a point in my life where I could do that."
"There were these two strong beliefs that kept coming back to me as I thought about where I wanted to go," Greg shares. These two "strong beliefs" became the impetus for starting his own company, Reach Dental Equipment. After years of experience in the dental equipment industry, Greg realized that he specifically wanted to create a company that supported dental equipment technicians.
The "first belief was that service technicians could have happier, more rewarding and successful lives, where technician success could be the North Star and guiding principle" he says. "What if we could create a company environment where the technicians were at the center of the universe, rather than a peripheral part?" The second belief revolves around "eliminating equipment stress for our clients. It then becomes a really powerful value proposition that clients can't say no to."
Filling the Client/Technician Gap
Consistency is key for cultivating a win-win for both technicians and clients. Reach Dental Equipment connects technicians directly to clients, creating a geographic territory for the technician. Clients "know they will always get that technician, so a relationship that gets built." The technician feels more confident because they know their client, "so for the technician that's a more rewarding, joyful way to do their job. Those offices count on them. They see them as a partner and a teammate, they invite them to lunch and they feel like they're part of a family."
Greg emphasizes that "every person in our company has to truly believe these values." When a company lacks "strong, clear purpose, that's when they really struggle." That struggle translates into questions like "who do we hire? What does compensation look like? And marketing?" Clarifying the question of why your company exists establishes a foundation for more sustainable enterprising endeavors.
Rooting For Our Future Business Leaders
For the past five years, Greg has also taught as a Professor of Marketing for the University of Washington's Tacoma branch. "It's an intro marketing class. I love being able to 'turn on light bulbs.'"
Greg most enjoys bringing very practical real life examples into the classroom and "turning on light bulbs" for his students as they get excited to study business and marketing. "It's a blast to be able to build relationships with the students, and to stay connected with those students. My expression to the students is 'once my student, always my students.'
Greg finds it highly rewarding when a technician or a student that he "had five years ago reaches out and says 'Hey, I'm at this crossroads in my career, and I'd love to be able to get your perspective.'"
NumberBarn Saves the Day (You Know the Drill)
"We actually started off with (big competitor which will remain nameless) because I didn't know anything about NumberBarn." (How dare he!) As a growing company, "we are always challenging ourselves to ask what are the things we are spending money on? Do we need to be spending money there? Is there a better way? Is there a different way? Is there a less expensive way to accomplish this particular task?"
Greg takes it all back to focusing on the technicians. "If all of the sudden costs spiral out of control in one particular area of the business, then it compromises your ability to reward those technicians. With Reach's previous phone number provider, "we ended up overpaying for lots of capabilities that weren't necessary for us and the billing was confusing."
After determining what they actually needed for their phone service, one of their CIOs suggested NumberBarn. "We were like, oh it's super simple and allows us to do all the stuff we need to do, for eight bucks a month! It was a bit of a magical moment because we were paying 70 bucks or something like that."
The Crowning Touch For Reach's Phone Number Needs
"We needed our number to do what NumberBarn does. We needed calls to come in and route to a cell phone. We needed the staff whose cell phone received the call to know that it's coming into our business number. We needed the person who normally picks it up if they're not available to be able to easily reroute it." Greg continues, "I think that there's a lot of businesses that think they need to spend a ton of money in order to be able to accomplish those things. I think that's mostly what a lot of businesses need, especially small businesses. There will likely be a point where we will grow to NumberGarage and we need to have a huge group (of users). But NumberBarn has met all of our needs, it's kept our costs low and I'm happy to recommend it to people. Go NumberBarn!"
Wow! And go Greg for all you are doing to inspire the masses, from technicians, to dental offices, to business students, to the random copywriter at NumberBarn!
Are YOU starting your own entrepreneurial journey? We can help. From affordable, memorable vanity phone numbers that spell your name or business, to cheap call forwarding plans, NumberBarn has it all. If you need a domain to match your business name, an easy website and professional email…check out our sister company, DomainSpot. And of course, let NumberGarage set your team up for success with advanced phone system features. Learn more about our sister companies at ClearHello.com.