Social media. If you're not there, you're square.
Business owners know that if you're not on social media, you're losing valuable opportunities to engage with customers.
A report published by Texas Tech University found that brands who engage on social media channels reap higher loyalty points from their customers. The report concludes, "Companies should take advantage of the tools social media gives them when it comes to connecting with their audience. A strategic and open social media plan could prove influential in morphing consumers into being brand loyal." Another study published by Convince&Convert found that 53% of Americans age 12+ who follow brands on social media are more loyal to those brands.
In an effort to build our social media presence, we blog. We Tweet. We Instagram. We Facebook.
We needed a tool to help us schedule all of our posts for all of our different channels.
Meet Later.com.
With Later, we can queue up and organize our weekly and monthly visual content across the social channels we need. Facebook and Twitter allow for auto-posting, but Instagram does not. Later gives us the tools to upload and schedule our Instagram photos in advance, complete with the captions and hashtags. Using the Later app, a notification on the phone will remind you it's time to post. The app then logs you into your Instagram, copies the text and gives you the option to add a filter to your photo before posting. This all takes a few moments, unless you're indecisive on which filter to use (which happens to the best of us).
Here's a peek at a weekly Later schedule for our Facebook, Twitter and Instagram: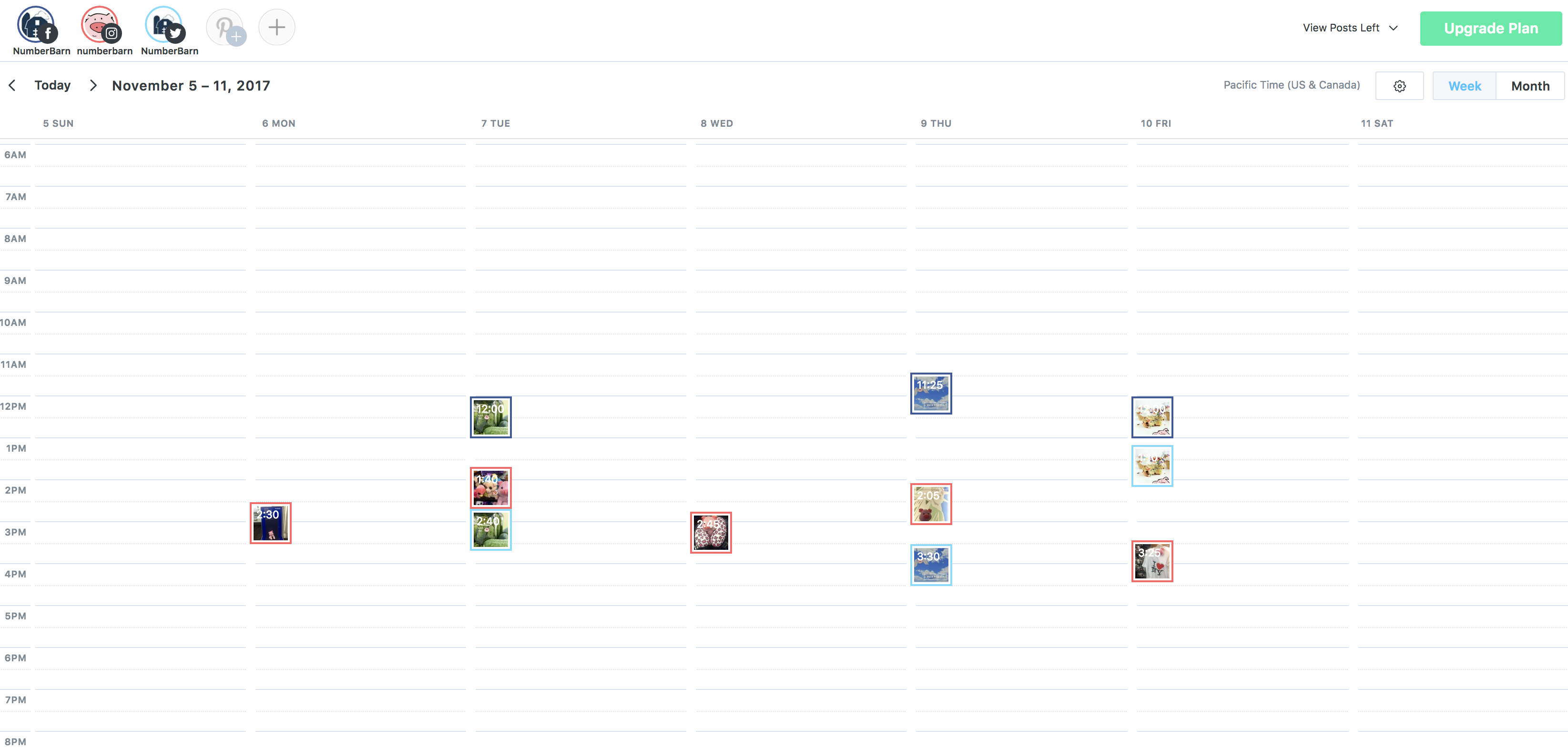 While the posting schedule is an ongoing experiment to find the strongest times of engagement, we took some tips from the Sprout Social Best Times to Post on Social Media: A Complete Guide.
If you don't like the times you originally scheduled, you can simply drag and drop to a different time:
When the times and dates arrive, the Twitter and Facebook posts above will automatically post to the appropriate channels.
Instagram will notify the user via the Later app to post.
It's that easy. Thanks, Later!
The hard part is what content to write and what photos to post…
Please note we were not asked by Later to write this post. We found something that works for us and we want to share the wealth. Enjoy!
We're NumberBarn, we take phone numbers very seriously. But, we also like to have a little fun. To learn more about us, visit NumberBarn.com and follow us on Facebook, Instagram and Twitter.