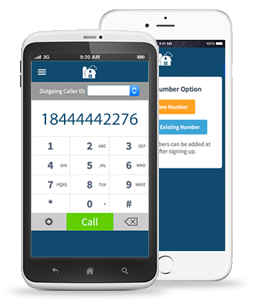 Use any number in your NumberBarn account as outgoing caller ID for outbound calls.
Simply log in to your NumberBarn account and navigate to the Dialer. There you will find a keypad to place outbound calls. Use it from your computer, laptop or smart phone. You will need an active phone number (such as a mobile phone or home phone) to place outgoing calls.
Here's how it works:
Virtual Phone Number
Log in to your NumberBarn account
Navigate to the Dialer
Enter the number of the phone that will be used to place the call (click the settings icon)
Select your outgoing caller ID from your NumberBarn numbers
Dial the number you want to call and click Call
NumberBarn calls your phone, answer and we connect your call to the number dialed
Callee sees your NumberBarn phone number as your caller ID
Log in to your account in your mobile browser and easily place calls right from your smart phone.
Outbound calling is included in all NumberBarn Call Forwarding plans and uses your plan minutes. Any minutes used over your allotted plan minutes will be billed at our low pay as you go rate of $0.03/minute.
Watch the tutorial below for detailed instructions on how to use our Dialer:
For more information about NumberBarn and outbound calling, please visit www.numberbarn.com
We're NumberBarn, we take phone numbers very seriously. But, we also like to have a little fun. To learn more about us, visit NumberBarn.com and follow us on Facebook, Instagram and Twitter.