Good gourd! Halloween is lurking just around the corner and your pumpkin needs to be carved. This is where The Pig comes in.
Use our free Pumpkin Pig Face template below on your pumpkin! And, share with us on social media using the hashtag #LoveThePig.
But first, here are some tips from All About Pumpkins to pump you up for picking the perfect Jack O' Lantern:
Choose a pumpkin that feels firm and heavy for its size.
Choose a pumpkin that has consistent coloring throughout.
Turn the pumpkin over and place pressure on the bottom with your thumbs. If it flexes or gives your pumpkin is not fresh.
Look for soft spots, mold, wrinkles or open cuts that would indicate damage or early spoilage.
Choose a pumpkin with a solidly attached stem.
A green stem indicates a freshly harvested pumpkin.
Place your pumpkin on a flat surface to check to see if it will sit flat after being carved.
For advice on how to carve the template on your pumpkin, watch this handy dandy tutorial from eHow:
And, your Pumpkin Pig Face Template awaits.
Click on The Pig's face below.
Save the image to your computer.
Print the image.
Tape to your pumpkin.
Carve away!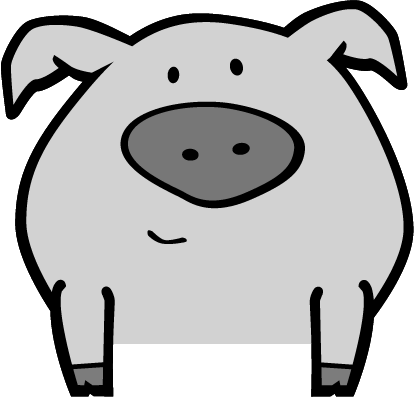 Don't forget to take a picture, post and tag NumberBarn on Facebook, Twitter or Instagram with #LoveThePig as the hashtag!
We're NumberBarn, we take phone numbers very seriously. But, we also like to have a little fun. To learn more about us, visit NumberBarn.com and follow us on Facebook, Instagram or Twitter.