The NumberBarn Park and Call Forwarding services let you go anywhere in the world.
Why not take our mascot, The Pig, with you?
Every employee (and some customers too) take The Pig on adventures. We share the travel photos over on our Instagram.
Where did The Pig go in 2019? Watch this video to find out!
In 2019, The Pig set foot in these US states:
Lake Pleasant, AZ, Peoria, AZ, Big Bear, CA, San Francisco, CA, San Diego, CA, Temecula, CA, St. Petersburg, FL, Orlando, FL, Haleiwa, HI, Honolulu, HI, Waimea, HI, Kalaheo, HI, North Shore, HI, Blackfoot, ID, Coeur d'Alene, ID, Idaho Falls, ID, Portland, OR, St. George, UT, Bearmouth, MT
The Pig had tons of fun hanging out at these landmarks, amusement parks and sports games + competing in an Ironman triathlon:
Walt Disney World
Epcot
San Diego Safari Park
Peoria Sports Complex
Idaho Potato Museum
Tropicana Field
Robert Renzoni Winery, Temecula CA
Hanauma Bay
Koko Head
Dole Plantation
Ironman 70.3 Coeur d'Alene
That's a lot of miles!
Why do we bother to share silly pig pictures?
Because it's fun. Because it's authentic. Because we want to share that to us, you're not just a phone number. And, we hope to you, we're not just a phone company.
We believe that behind every phone number lies a beautiful idea, opportunity or person. We strive to make meaningful connections in everything we do.
Heck, sometimes we surprise our customers with a stuffed pig to take on THEIR adventures!
It's a lot of fun to travel around with a stuffed pig. People give you funny looks, stop to ask you what you're doing then get really excited about helping you take the perfect pig picture.
This is how The Pig travels with me (Jenny Sue):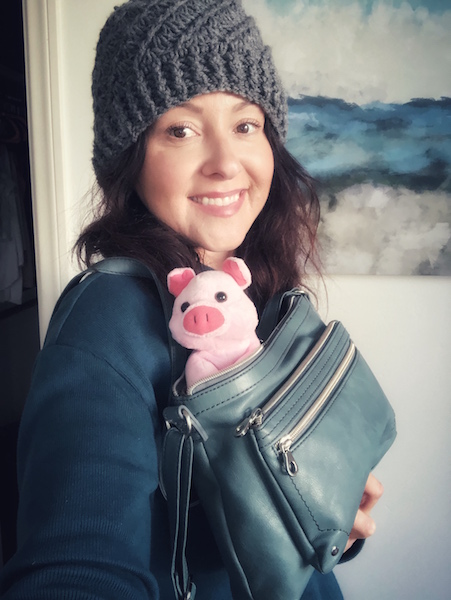 In fact, I have one in my car at all times just in case a great photo opp pops up.
What adventures are ahead for The Pig in 2020? Follow us on one of your favorite channels to stay in touch:
Instagram: https://www.instagram.com/numberbarn/
Facebook: https://www.facebook.com/NumberBarn
Twitter: https://twitter.com/NumberBarn
LinkedIn: https://www.linkedin.com/company/7794124/admin/
TikTok: https://vm.tiktok.com/CPPGTe/
And, if you ever happen to see The Pig out in the world, definitely stop by and say hi.