For elderly clients of Meals on Wheels of Alameda County's programs, sometimes "a little bit really does go a long way."
Meals on Wheels (MOW), a renowned and national name for feeding homebound seniors, serves up more than a meal to our senior loved ones across the United States. When Meals on Wheels delivers a meal, they also bring to the table a sense of comfort for many physically-limited seniors.
We are so proud to get to highlight Meals on Wheels of Alameda County (MOWAC), a customer of our sister company, String. An intuitive text and voice platform, String helps MOWAC to more efficiently communicate with their partners and communities they serve.
Meals on Wheels Has a Lot on Their Plate
Established in 1987 as the umbrella of six independent Meals on Wheels delivery programs in Alameda County, MOWAC works primarily as the fundraising and strategic support arm for these programs that serve approximately 14 cities across Alameda County.
Colleen Roeser, Development and Administrative Coordinator shares how her organization of Meals on Wheels helps unite the efforts of the six individual MOW programs to more effectively reach over 2,700 seniors a day across Alameda County.
MOWAC bridges resources, potential volunteers, and clients to the right individual or MOW program for their particular needs or locale.
With a vision to "end senior hunger" Meals on Wheels of Alameda County "assists frail, homebound seniors in maintaining their independence by fundraising and providing financial support, community outreach and strategic assistance to MOW programs in Alameda County that deliver nutritious meals and perform wellness checks."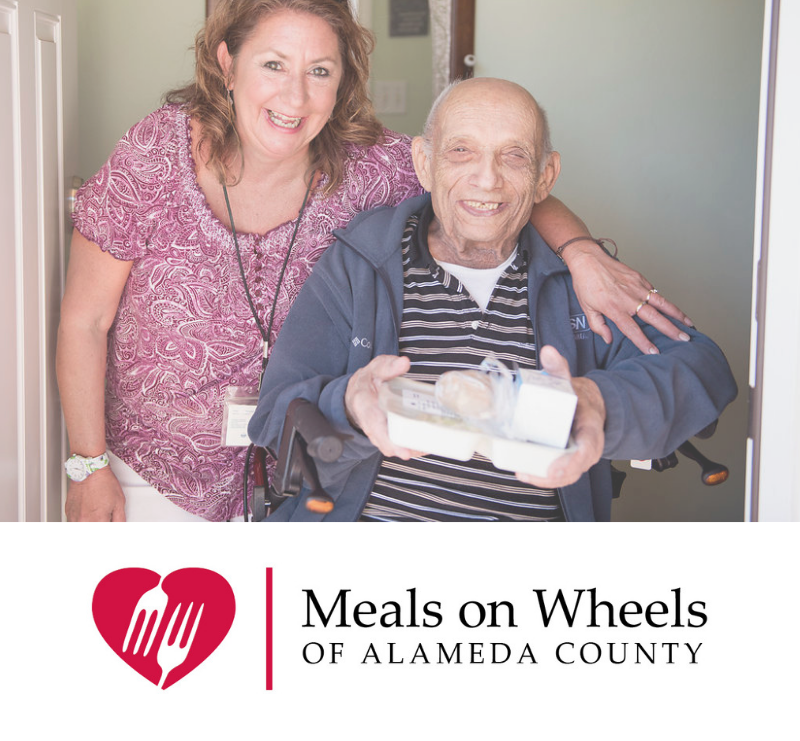 Since 1987, these programs have delivered over 500,000 meals annually to seniors in their community. However, Colleen shares that in 2019, "MOWAC and its programs delivered approximately 600,000 meals. In the last three years since the pandemic started, they've delivered an average of 850,000 meals" per year. (Wow, that's a ton of meals! Quite literally…more than a ton!)
If we did the math right, this means that in the last 35 years, the Meals on Wheels programs of Alameda County have distributed over 20 million meals to seniors in need…in Alameda County alone!
"One individual program may cover up to 72 routes per day," Colleen shares. Needless to say, distribution of thousands of meals across multiple programs and cities, with a small army of volunteers and staff creates intricate and complex logistics.
Colleen uses String to better interact with each individual program, as well as direct individuals who call with questions or want to enroll, donate or volunteer. "It's super helpful because String provides text templates and I can easily reply to a common question right from my desktop while navigating my other tasks," she says.
Spicing up the Holidays With Extra Care
Additionally, MOWAC also runs an extensive Holiday Care Package program for their clients countywide (which you can support this season!) For just $9 each, this year's Holiday Care Packages include: hand sanitizer, a flashlight, puzzle book, toothbrush, toothpaste, mini first aid kit, and pocket tissues.
"The items are hand-picked and delivered in a festive bag designed to help isolated seniors feel more connected to their community during this holiday season. We aim to deliver more than just a meal. With these care packages, our goal is to deliver joy, warmth, and connection."
MOWAC's team and at least 30 volunteers start early in the season assembling the Holiday Care Packages, a large-scale operation to pack over 2,700 packages. The independent programs come and pick up their packages, and for some, "they need to bring a full Uhaul-size truck depending on the size of the community they serve," Colleen says.
Over the course of the pandemic, Meals on Wheels saw a dramatic increase in homebound elderly clients. Each independent Meals on Wheels program maintains the utmost caution and vigilance in following advised COVID protocols to continually protect vulnerable seniors.
While pandemic-era COVID restrictions may now have eased in many cities, our elderly friends and loved ones remain particularly susceptible to complications from acquiring COVID. More seniors must social distance and avoid crowded places like grocery stores, etc. As a result, MOW programs in Alameda County have maintained "about a 20% increase in clients since COVID," Colleen says.
Dishing up Love and Joy
A home-delivered meal lets elderly individuals know they are cared for and remembered. Seniors share that sometimes even a greeting and smile from a delivery volunteer provides a morsel of encouragement and sustenance for the soul.
This holiday season, let's remember those who have weathered a few more generations than us and honor them with a Holiday Care Package, or help continue the extraordinary and thoughtful outreach of Meals on Wheels. Find out more about Meals on Wheels in your area.
---
Join String For Your Non-Profit!
Do you need to quickly coordinate and communicate with your teams, leads and clients? String's array of features, like auto-replies and keyword responses, provide cost-effective text communications solutions for non-profits, solopreneurs and small businesses. Effortlessly multiply your reach with String!