Because you have a say in what phone number you'll be using for the rest of your life.
I can still remember that trip to the Verizon store to get my very first cellular phone. After selecting the least expensive phone possible, a flip phone, I was handed a box and on it was a Post-it note with my new phone number.
Now, I happen to love my phone number but I wasn't given any choice whatsoever. I just took what was given to me and adopted it as my own. In retrospect, the lack of choice seems a bit odd, doesn't it? After all, I was able to choose my carrier, plan, and device. Why was the phone number left out of the equation?
Black Friday and Cyber Monday have come and gone and one trend has become abundantly clear this holiday shopping season. Consumers aren't just switching carriers or upgrading their mobile devices. They are upgrading their mobile phone numbers as well. At least that's what our customer support team is seeing as we interact with customers day in and day out.
Can I really choose a better mobile phone number?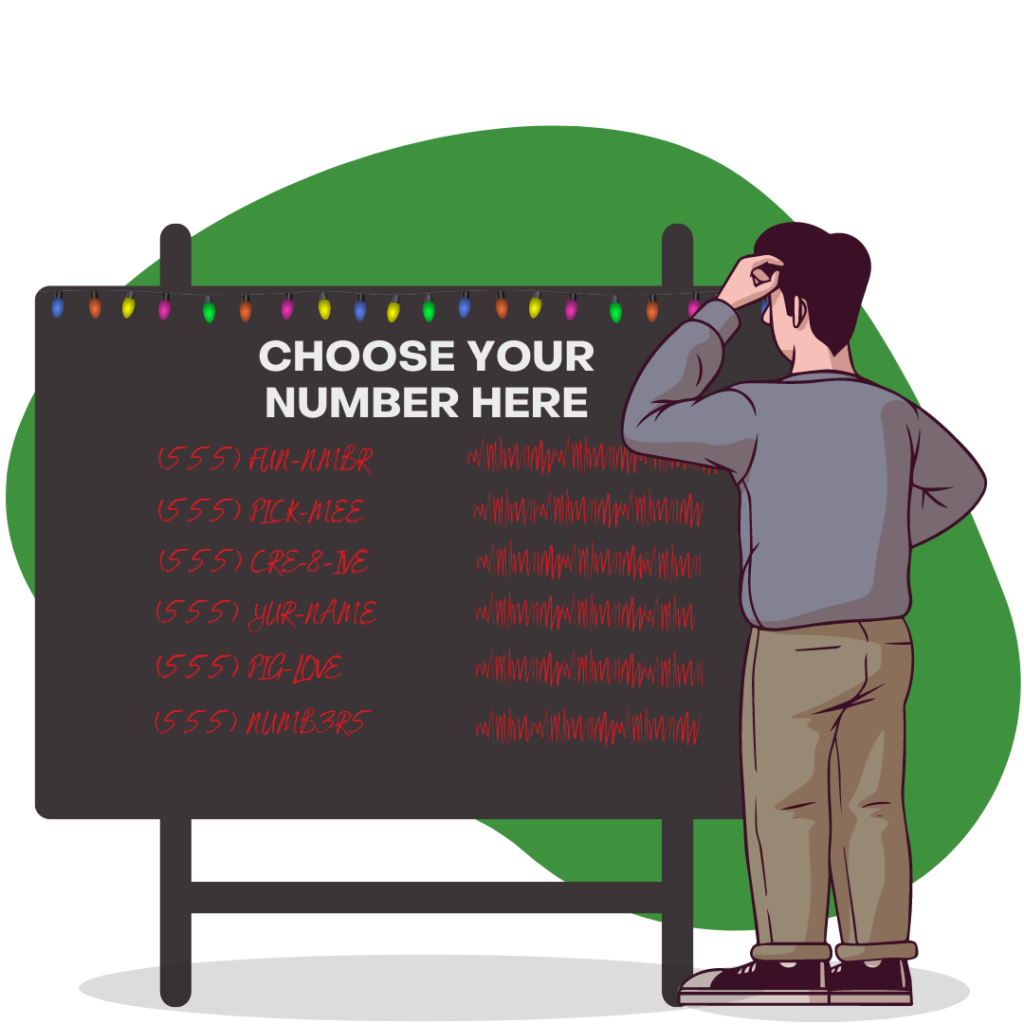 It's not uncommon for customers to contact us looking for a great new mobile phone number. With tens of millions of numbers to choose from they search our site for numbers that spell out certain names or words, or contain catchy patterns and repeat digits.
Why not own a number that's not only easy to remember but also speaks to your uniqueness as an individual? Chances are that we've got just the right one for you.
So I got my new number. Now what?
Once you've secured that perfect number, you get to choose what you do with it. Here are the options you have:
Pulling a mobile phone number switcheroo
Sure, you may be looking for the perfect number for your brand new wireless plan and phone. But you can also swap out your existing number with a new number. In either case, you'll want to confirm that your wireless carrier can support the rate center for your number — and if so, initiate a porting request with your wireless carrier. (Notice the bolded text to emphasize the importance of these steps!)
While you're at it, take a stroll through our newly updated Help Center, packed with helpful information. Not only do we have an article dedicated to helping you find your port away information, including your account ID and PIN, but we also have an article that walks you through the mobile phone number switcheroo I mentioned earlier.
Finally, I'm incredibly proud to work with such an incredible team of number experts here at NumberBarn. Not only do you have the power to choose the perfect number for you, but you also have access to our customer support team any time you need help porting your number to your wireless carrier. We are here to help!