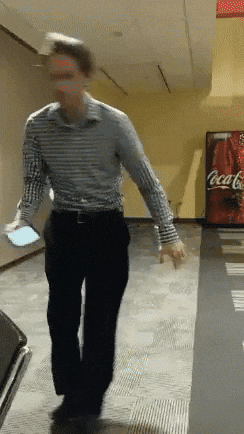 The humans behind NumberBarn may sometimes dance like robots (hey, don't judge) but we're not actually robots.
And, the humans behind NumberBarn know that our customers are not robots either, even if you dance like one too (we're actually impressed with those moves).
We believe that behind every telephone number, there's a beautiful idea, opportunity or person.
We strive to make meaningful connections with you, our customer, to support your number needs.
And, sometimes we have a little fun in the meantime.
A new NumberBarn customer purchased a vanity phone number. Our Order Fulfillment Manager, Kylie, reached out to verify his order, leaving a voicemail.
Joel then returns Kylie's call later on, as Kylie was assisting another customer, and they missed each other. Joel leaves a voicemail.
Here's that voicemail:
After a good giggle and some robot moves, Kylie reached out to Joel to finalize his order. Success!
Wanna share your favorite dance moves with us? Send us a message.
We're NumberBarn, we take phone numbers very seriously. But, we also like to have a little fun. To learn more about us, visit NumberBarn.com and follow us on Facebook, Instagram and Twitter.